The walkway to your home is one of the first things that a visitor will see. Here is where you want to make a great first impression. Many homeowners are taking advantage of the wide selection of colours and designs that are available for an interlocking path, walkway or sidewalk, and concrete interlocking.
The interlocking walkway and concrete interlocking designers at Action Home Services will be able to take you through all of the different colour choices that are available so that you can make an informed choice on exactly what you want your interlocking walkway to look like.
Thanks to our dedicated team of designers and installation experts, we are able to deliver premium quality interlocking walkway solutions to our customers in a fast and affordable way. We work very hard to ensure that your expectations are exceeded and that after we have completed the installation, you are more than satisfied with the work that we have done.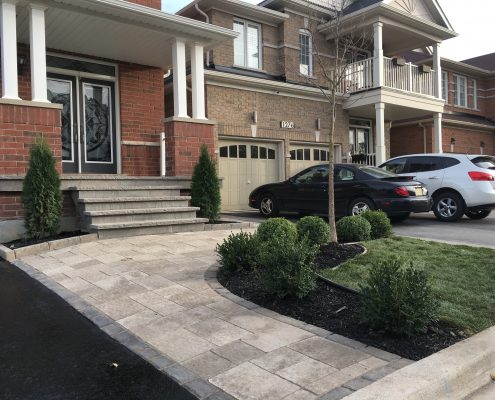 Front Entrance Landscaping Toronto and GTA
The Action Home Services team fully understands exactly how important it is that the entrance to your home is perfect. We are able to offer custom walkway designs for interlocking pavers and concrete interlocking so that you get the entranceway to your home that you have always wanted. The team is very skilled at listening to exactly what a client wants and then making that a reality.
Our design process is something that we take very seriously, we have many years of experience delivering on promises that we make to our clients. Whether you need a concrete, path or sidewalk service, we can work within your budget to provide you with exactly what you want in a time frame that you are happy with.
As soon as you get in touch with a representative from Action Home Services we are dedicated to making sure that you are well taken care of and every desire that you have is listened to and acted upon. You will also be able to use our significant experience in designing front entrances to really get something that works well, both functionally and aesthetically.
Interlocking Walkway and Steps Contractor in Toronto and GTA
Nothing says "Welcome to my lovely home" more than a set of beautiful steps to your front door. It really is a wonderful way for guests to enter your home, especially when the steps compliment the rest of your homes aesthetic. Many homeowners are surprised to learn that upgrading the steps and interlocking path to their home is actually quite affordable, and the impact it has on the curb appeal is priceless. When you factor in the impact that your new custom-designed steps will have on the value of your home, the investment is well worth it.
The steps of your home are often be overlooked by those looking for home improvement projects. This is a real shame, as they can transform a home from something ordinary to a masterpiece. The first step is to speak with our design team and tell them exactly what you have in mind for the steps of your home. You will then be joining the many homeowners who have been thrilled by the work we have done in the past.
Walkway Interlocking Contractor in Toronto and GTA
Action Home Services is an experienced and professional walkway interlocking contractor serving Toronto, Markham, Vaughan, Scarborough, Brampton, Mississauga, Burlington, Oshawa, Richmond Hill, Milton, Oakville, Aurora, Caledon, Pickering, Whitchurch – Stouffville, Ajax, Whitby, New Market.
We also can help you with:
Interlocking Walkway Installation & Repair

Interlocking path (Path & Sidewalk)

Concrete Interlocking Installation & Repair

Interlocking Design

Front Steps & Entryway Installation & Repair

Natural Steps

 

Installation & Repair
Front Entrance Landscaping
Interlocking Steps Installation