Flagstone Repair & Installation Services Toronto and GTA
We offer comprehensive flagstone services around Toronto and the GTA. Whether you need installations, repairs, pressure washing, or more- AHS has you covered. We have decades of combined experience working with flagstone for a variety of different purposes so we know exactly how to work, what tools to bring, and where to source your natural flagstone. Our results speak for themselves- we're one of the top flagstone contractors in the city!
Flagstone Installation Services
---
No matter what you need, Action Home Services will find the best method to install your flagstone. Most flagstone, or natural stone, may be installed on top of the screening or concrete base. In both situations, the sub-base has to be prepared in a similar way as preparing the base for the interlocking pavers.
The soil has to be excavated by at least 6 inches or more depending on the type of earth we're working with. Then hard rock and screening material have to be added. After this, concrete is formed and paved. Once the concrete cures, flagstone could be installed. It is important to add some cement underneath each flagstone to make sure that the flagstone can stick to the concrete. Finally, gaps between flagstones need to be filled with cement or polymeric sand.
We have an amazing track record for getting projects done on-budget and on-time. We're here to support you as you remodel your backyard, walkway, pool, or patio with amazing flagstone services. If you have any questions, we encourage you to contact us to find out how we can transform your home.
Free In-Home
Estimate
Please fill in below and one of our representatives will connect with you for your in-home quote.
Your Toronto Flagstone Contractor
---
Action Home Services is an experienced and flagstone contractor serving Toronto, Markham, Vaughan, Scarborough, Brampton, Mississauga, Burlington, Oshawa, Richmond Hill, Milton, Oakville, Aurora, Caledon, Pickering, Whitchurch – Stouffville, Ajax, Whitby, New Market. We also can help you with: Flagstone Installation & Repair, Natural Steps Installation & Repair, Pool Copings Installation & Repair, Flagstone Design, and Flagstone Pressure Washing & Sealing.
Top-Quality Flagstone Services in Toronto & The GTA
---
We know exactly how to bring your vision to life- we have the experience and expertise to help get you started, and we're just a call away!
Certified Professionals
---

Pros and Cons of Flagstone
Flagstone is a natural stone, which provides a natural, unmatched beauty, as well as a luxurious look and feel. To compare, interlocking stones are made in a factory, which makes them far more precise and accurate in terms of dimensions, colours, shapes, and so on.
Interlocking steps can be installed using the dry lay method (on a gravel base) because the sizes of the stones are the same. Flagstone, on the other hand, usually requires the wet lay method, meaning the stones need to be placed on wet mortar or cement that sits on top of the concrete base, to preserve the durability and lifespan of the steps. The wet lay method is perfect for flagstone and other natural materials because it allows the stones to sink into the cement, which is especially beneficial for leveling since the steps often come with different heights.
Overall, interlocking has more design options and availability, is (in most cases) more durable and affordable, and has a better warranty. However, if you are looking for a more luxurious and natural-looking stone, flagstone is the way to go!
Why Do Flagstone Joints Crack?
There are two main reasons why your flagstone joints are failing:
Low-quality cement or mortar was used.
There is a very specific ratio of cement and sand that should be used to create your mixture. Instead of attempting to recreate the formula, we recommend purchasing premixed mortar – "type s". If only cement is used, the cement will crack and the repair job will not last long.
If only sand is used, the joints will never harden. This is because sand absorbs water and holds moisture; when colder temperatures cause freezing, it can expand up to 9 percent which will result in the mortar cracking.
The bottom surface (under the flagstone) was not done correctly.
If the gravel base moves, it will cause the joints to crack. To check the base, you will require professional technicians to lift the flagstones.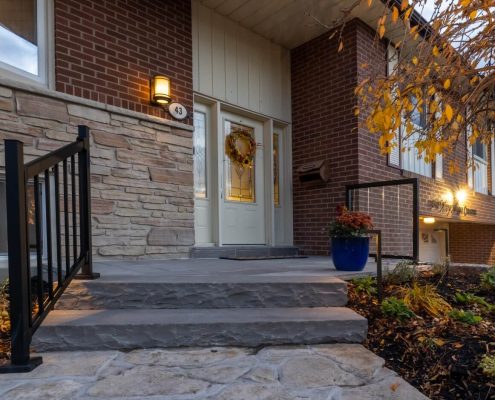 Different Natural Stones
There are a lot of different shapes and colours of flagstone, however the most popular ones are random flagstone and calibrated & cut flagstones from. Each of these flagstones has its own positive and negative sides. For instance, random flagstone is relatively cheap, and it is sold by weight. Also, it has a variety of different colours which you will not find from other companies.  The interesting fact about random flagstone is that it is almost impossible to find two stone of the same colour. On the other hand, calibrated stones are easier to install and have square or rectangle shapes. Both of these stone types looks great, so every homeowner has to choose the flagstone which suits their needs the most.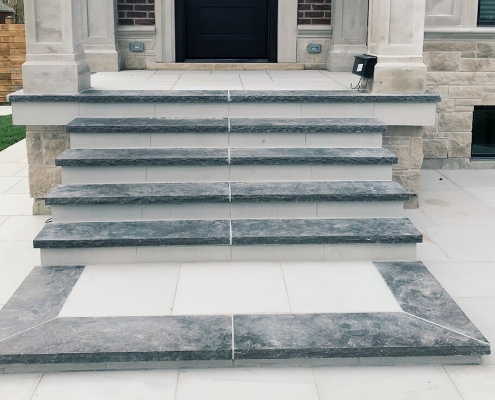 Flagstone Porch
The narrow pack joints of flagstone make it a superior option when it comes to building materials for porches. Instead of water running off of the porch, the narrow packed joints allow it to permeate. Flagstone is also incredibly durable and it can be laid dry for a permeable surface. The permeable surface allows grass, moss and ground to be grown between the stones of the porch, making it great for the environment. Aside from all of the other benefits, flagstone porches have a very natural look because of their shape and earthy shades used. The most common types of flagstone used for porches are sandstone, slate and limestone. Flagstone porches are durable, naturally slip-resistant and will last you for years to come.
How to Install Natural Stone Steps
---
Flagstone Installation Process
Step #1 – Measure and level the area
Before you start your natural stone installation, it is necessary to realize that whether you choose Natural Stone or Flagstone steps, the installation involves a strong knowledge of the process, and the special equipment required to lift all materials. To be more specific, a 4 ft step weighs about 200-300 pounds, while a 6 ft step is about 500-800 pounds. While DYI of steps is still possible, we encourage you to save a headache and trust this sort of job to someone reliable, professional and experienced.
To start laying down the stones, we first need to make sure that the area is properly measured and leveled. This includes measuring the area for the step's width and depth, as well as making sure that it is level with the ground surface.
Step #2 – Prepare a base layer of gravel
When the area is leveled, we will lay down a base layer of gravel before installing your natural stone steps. This is important because it will provide an even surface for your stones to rest on and will help keep them from shifting over time. Once we spread out an even layer of gravel (3-4 inches should do), we will compact it using a tamper or roller for optimal results.
Step #3 – Stone steps installation
Now that we have a stable base layer ready, it's time to start placing down the natural stones! We will lay out the stones so that they are evenly spaced apart from one another and will begin securing them in place with mortar or concrete adhesive (depending on the type of stone being used). Securing the stones is an important step as it will help ensure the stability of your steps over time!
Step #4 – Railings
The last step before we clean up is to install the railings. Besides being a Natural Stone contractor, we also offer Railing Installation services. So we have the whole project covered for you.
Here at Action Home Services, we care for our customers, always stay on top of crew management, follow safety regulations, and do a clean and neat job – and this is not even speaking of the wide range of power equipment that helps us take on any project of any difficulty level! Give us a call at (647) 937-1023 to get a free estimate on a natural stone steps installation project in Toronto and the GTA.
Flagstone Repair
Over time flagstone can become loose- from the mortar to the stones themselves, flagstone can start to degrade after years of use. To repair flagstone, you would typically want to use the "wet method" which uses cement. Whether you have a flagstone porch, steps, walkway, or interlocking paver driveway that needs repair, we encourage you to follow these steps to guide you through your repair:
Step 1: Lift the flagstones.
Step 2: Clean the surface below, as well as the flagstones, themselves.
Step 3: Mix mortar with water. We recommend purchasing pre-mixed mortar, which combines cement and sand – "type s".
Step 4: Install mortar on the ground surface and on the back of the stones.
Step 5: Install the stones back in place.
Step 6: Wait a couple of hours for the stones to harden into place.
Step 7: Fill the ground/cracks.
Step 8: Use a sponge or brush to clean the surface from cement residue.
Step 9: Use water to rinse off the area.
Step 10: Enjoy your new flagstones!
What Toronto Thinks of AHS
---
"The team from AHS services were great to work with! They were able to act within a day and keep us on schedule and secure our investment in the work we got done."
- Jay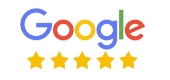 "This is the second time we have used John and Action Home. The fist was to do a major backyard make over which we were so impressed with. His men were skilled, friendly, on time and clean up afterwards. We found the price for both jobs were reasonable."
- Rick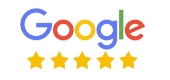 "I like to ask a lot of questions before I hire someone to make sure I understand what I'm getting, and he was very patient. As part of the quote they gave us, we were able to use AHS' landscape design services."
- Catherine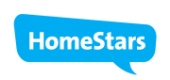 I had a front entrance done with these guys. Was really surprised by the quality of their work. The job was done quicker than it was planned and the price was more than pleasing"
- Victoria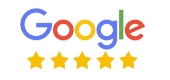 "The company was great. They did the job very fast, clean and professional. They quoted 2 weeks to complete the job once the work began but they were finished within the week."
- Shay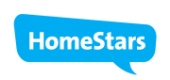 "Highly recommend to those who are looking for professionals and reasonable prices! We received great servicing from AHS."
- Amir