Interlocking, Landscaping and More
Landscape Construction and General Contracting serving Toronto, Vaughan, Richmond Hill, Markham and more…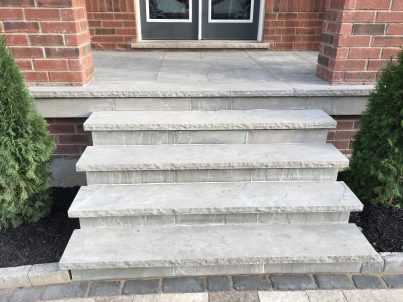 Flagstone
Flagstone is a natural sedimentary stone which has been cut and calibrated. There are different types of flagstone like: sandstone, limestone and granite. We specialize in flagstone design, flagstone repair, and flagstone installation services for both residential and commercial properties.
Retaining Walls
Here at Action Home Services, we are equipped to design and build any retaining wall to suit your needs. Our technicians can build the retaining walls using many different materials like timber posts, poured concrete, armour stones and concrete blocks.
Interlocking Services
Our company provides interlocking services in Toronto and GTA. We can help you to design and install the interlocking pavers of your dream. Whether you need interlocking driveway, patio, walkway, steps or entrance we will get it done for you.
Pressure Washing & Sealing
Action Home Services is an affordable pressure washing and sealing contractor in GTA. Our company specializes in interlock sealing & repair, concrete sealing & repair, deck sealing & staining, asphalt sealing & repair.
Driveway Sealing Services
Our company specializes in driveway sealing & asphalt repair for both residential and commercial properties. If you want to seal your driveway to protect it from cracks or make it look new again we are here to help.
Servicing Toronto and the GTA
Reliable landscape construction and general contracting company serving Toronto and surrounding areas. Take action with Action Home Services
Action Home Services
Action Home Services is a Landscaping company which focuses on providing the best options in landscape designs, Lawn care and maintenance, and construction serving both residential and commercial clients here in Toronto, Richmond Hill, and nearby places.
Transform Your Exterior
If you are looking to transform your boring exteriors into the most beautiful landscape then we are the company for you. We believe in fulfilling our customers' need by providing them their own little paradise right in front of their home. An alluring landscape will not only enhance the beauty of your place but will also increase its value and we can make that happen for you. Well organized work, diligent contractors and professional support are what you can get here. We provide luxurious and sustainable outdoors which make your pass time more pleasurable. Quality workmanship is what helps us attain our goals and achieve success in our projects. We provide one of the best interlocking sealing here in Toronto. Each customer's demand and needs are of utmost importance to us. Dedication towards work and proper execution of it are our priorities. Providing best services in the shortest time span without much hindrance to the customer is what we strive for and have been able to achieve over the years.
Top Landscaping Company in the GTA
Action Home Services takes pride in offering clients more than they expect. Our vision is to become the most sought-after contractor in the Toronto area for various construction services. We strive to meet the challenges of execution, safety and timely completion of the projects. We design and build an outside living area of your dreams while ensuring a headache-free work from start to finish. We have a proven track record of delivering exceptional projects with a hassle-free owner experience. From designing and constructing retaining walls and beautiful landscape to driveway sealing and asphalt repair, we do it all. As a general contracting company, we have expertise in a wide spectrum of services. We boast a team of highly qualified technical and administrative staff who work diligently to ensure that projects are completed on time and within budget. Our team of trained, certified, and experienced professionals is fully equipped with the latest machinery and equipment to undertake a wide range of projects. Today, our services include interlocking and asphalt paving, designing and constructing landscapes, pressure washing and sealing, building decks and fences, demolition services, and much more.
We work closely in partnership with our valued clients to fully understand their requirements, thereby ensuring to match every aspect of their needs and thus achieve full customer satisfaction. An attractively landscaped yard and well-maintained driveway can maximize your outdoor living space while enhancing the resale value of your property. As such, we aim to bring the exterior's design of both residential and commercial properties to a whole new level.
When you work with us, you'll benefit from our professional approach to all we do and our commitment to excellent service and results. Irrespective of the size or layout of your property, we can come up with a plan to help you make the most of your space and enhance its aesthetic appeal.
Driveway Sealing Services
Ensuring Your Property Looks Its Best
Over time, asphalt will start to deteriorate because of weather conditions and the force of cars. When this happens, your asphalt driveway will lose its vibrancy, will start to crack or chip and will eventually form potholes. Your driveway, whether it is a residential or commercial driveway, is made of asphalt, sand and stone, which makes it susceptible to other elements. In order to maintain the pristine look of your driveway, you will have to have your driveway sealed. Here at AHS, we offer expert driveway sealing services for our clients. 
Whether you have a residential or commercial driveway or parking lot made of asphalt, you want to ensure that your property looks its best. Since your driveway or parking lot is one of the first things that people see, it plays a huge role in the overall aesthetic of your property. A beautiful driveway of parking lot can make your property seem more inviting because it doesn't have things like potholes, cracks or an overall dulled colour.
The team at AHS uses an oil-based sealer that not only enhances the look of your driveway or parking lot, but it also protects it from the elements. With our sealer, you can rest assured that your driveway will be protected for up to 2 years. Our sealer protects your driveway from UV rays from the sun, oil and gas spills, and will help prevent cracks. With the help of AHS and out driveway sealing service, the life expectancy of your driveway can be increased. If you are noticing any cracks or pot holes in your parking lot or you are noticing that the colour of your driveway has turned a dull, lifeless grey, then get in touch with the driveway sealing experts from AHS today to request a free quote on our work. We offer residential driveway sealing and commercial asphalt sealing services.