Custom Pergolas, Gazebos & Cabanas in Toronto & GTA
Is your backyard in need of an upgrade, but you're unsure of your options? For many homeowners like you that want to take your backyard to the next level, a pergola can be just the thing. The Action Home Services team will design a custom Pergola to cover your patio, porch, or really any part of your outdoor space. Pergolas can function as the focal point of your backyard and make any gathering at your place something really special. We are committed to always delivering a final results that looks great. Call us today to request your quote.
Pergola, Gazebo and Cabana Contractors
---
Our team is made up of only the most qualified design and installation experts and we only use the highest quality of materials. This is why you can trust us to get the job done right, and that your new pergola will continue to look great for many years to come.
It's your home, and we want to help you achieve the dream home you have in your mind. We have an impressive track record when it comes to helping homeowners improve their backyards. Whether you explore our projects or read our numerous positive reviews, you'll find that we always deliver the best results for our clients. When you call our Pergolas, Gazebos or Cabanas in Toronto and the GTA, you can expect us to provide you with: 
A free in-home estimate

An in-house designer to help bring your ideas to life

Experienced professionals

Affordable rates for your project

Limited warranty on labour (5 years)

Services for commercial and residential properties
Free In-Home
Estimate
Please fill in below and one of our representatives will connect with you for your in-home quote.
Wide Range Of Custom Design Options
---
There is a wide range of design options for your gazebo, pergola or cabana. At Action Home Services, we take the time to make sure that the gazebo we install conforms exactly to your specifications. When we are finished installing your new gazebo, we make sure that you are completely satisfied and happy with the end product. We take care of everything to make sure that getting your new gazebo is a simple and quick process from start to finish.
Expert Custom Pergolas in Toronto
If you want something that is similar to a gazebo, but not the same as a gazebo, then a custom pergola is just what you need. A pergola is similar to a gazebo, but serves a slightly different purpose.
A pergola is a much larger outdoor shade structure with a lattice-style roof. It is supported by long posts and covers and defines large areas such as entire patios and outdoor seating areas. They can be covered with vines, or they can be open to the sky. Most often, they are built to get shade from sunlight.  Pergolas are great for separating your outdoor patio or deck into different areas. You can walk underneath to create a shady area to relax, eat, or read. You can also hang lights, plant pots, and decorations on top of the pergola posts. Depending on where you live, adding a pergola might be good for extra privacy as well.
Custom Gazebo Design & Build
If you want to add a beautiful structure to your backyard that also acts as a form of shelter and even a backdrop for photos, a custom gazebo is the perfect option for you.
Gazebos allow you to enjoy your outdoor space in any weather conditions and are typically used for relaxation, as a shelter from the sun, rain or cold, or for entertaining guests. A gazebo is a small, outdoor shade structure with a roof and partially open walls. They are generally shaped as an octagon, hexagon, or oval.  There is nothing more relaxing than spending time outdoors, knowing that even if it rains you will be able to sit back, read a book and listen to the rainfall. In hot and sunny weather, the shade that a gazebo provides can be a welcome relief. A practical side to having a gazebo is that you don't need to worry about the elements damaging your furniture to the same degree as if they were left uncovered outside. It is also possible to have a gazebo fitted with screens to keep out bugs.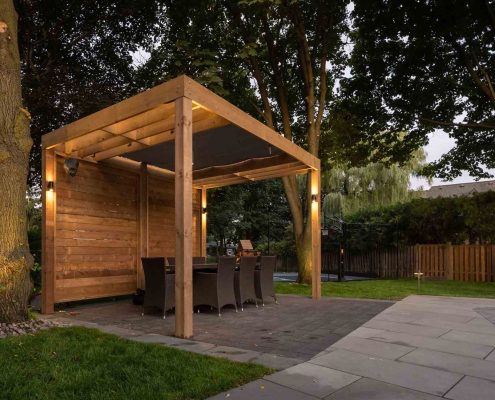 Custom Built Cabanas
A custom built cabana will allow you to host the best pool parties in town or let you and your family enjoy a quiet day by the pool. They are truly, a multifunctional space that allow you to make the experience of being in your pool very special indeed.
We work with only the finest engineers and architects in the businesses to make sure that the cabana that we build is exactly the one you want. We are also sticklers for ensuring that all safety best practices and building codes have been followed to the letter.
Having a pergola, gazebo or cabana added to your home will increase the value of your home, as well as providing your family with many years of enjoyment.
Providing Quality Services Throughout Toronto and the GTA
---
We are a Pergolas, Gazebos & Cabanas design, construction and general contracting company that serves Toronto and the GTA. When you want to transform your backyard, you need AHS!
Certified Professionals
---

AHS Pergolas, Gazebos & Cabanas