Residential Asphalt Repair
If you are planning on repairing the asphalt on your residential property, you can count on Action Home Services AHS to provide excellent results. We offer a large variety of asphalt repair services to ensure your asphalt ends up looking as good as the day it was installed.
Why Go With Us
---
The team of experts at AHS has been performing residential asphalt repair for many years and are dedicated to providing the best possible service to all of our customers.
We can help with the repair of potholes, cracks, and any other damage to your asphalt that has been caused by wear and tear. For any and all issues you're having with your residential asphalt, give AHS a call today!
GET IT SEALED
TODAY
Please fill in below and one of our representatives will connect with you for your in-home quote.
Contact Our Residential Asphalt Repair Experts Today
---
We are an experienced and professional residential asphalt repair company serving Toronto and the GTA. We're here to help you make your driveway look incredible!
Certified Professionals
---

What Our Clients Have to Say
---
"Quick response. Good service. Explain and suggest the next steps. The staff are hard-working and pay attention to details. Thanks a lot! Flexible payment options and we will reuse them again in a couple of years for maintenance" - John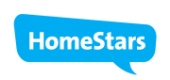 "I got a seal coating for my driveway from Action Home Services last year from Kyle, the job was done professionally my beige stone around the driveway stayed clean. After 8 months driveway still looks good despite everyday usage and a heavy snowstorms. Great quality, fair price, highly recommended." - Artem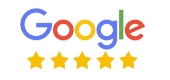 "Kyle and his team provided excellent service! The communication, quote information, and asphalt sealing service was exactly what we were looking for. We have two driveways and both were completed with high-quality craftsmanship! Thank you!" - Derrick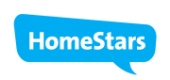 "Last summer Action Home services did driveway sealing for me, before my driveway was just awful- big oil stains, cracks and asphalt was chipping but guys from AHS fixed everything, now all stains and cracks became totally invisible. Just couldn't expect to get a such wonderful job, my driveway looks way better than before." - Yana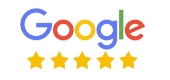 "Great company. AHS were doing work on my street and were able to do my driveway right away. very clean and professional service. highly recommend them" - Eduardo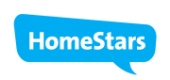 "Saw this Company by doing a driveway seal coat for my neighbor, they seemed to me a professional guys, very polite attitude and they did a really great job. High attention to details and good quality service. There is no doubt I'll call them again." - Nikita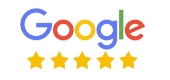 Featured Asphalt Service Projects in Your Area
---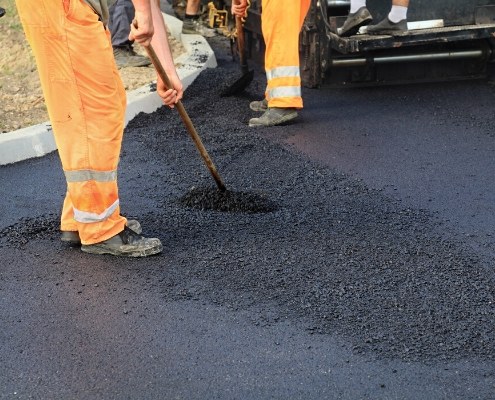 Asphalt Patching And Repair
Over time your asphalt will begin to crack and break apart. In the worst instances, cracks can begin to form large potholes that could end up causing considerable damage to your car or even you. Because of this, it is important that you take care of any cracking that begins to form in your asphalt.
Damaged asphalt can cause problems such as poor drainage, which is partly how potholes are formed. It will not take long for a small crack to get out of hand and cause much larger damage that will end up costing you much more than a simple patch job.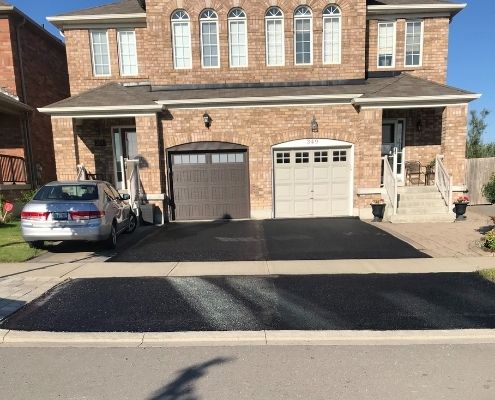 Crack Repair in Vaughan and GTA
If you want to protect your asphalt for years to come, asphalt seal coating is an excellent solution. Sealcoating your driveway will prevent the forming of any cracks or holes in your asphalt for the foreseeable future and will also improve the look of your asphalt.
AHS provides asphalt sealing services that will both keep your asphalt protected and make it beautiful. If you want to learn more about this, then we invite you to call us today. We can answer any questions you may have and address any concerns. We look forward to speaking with you.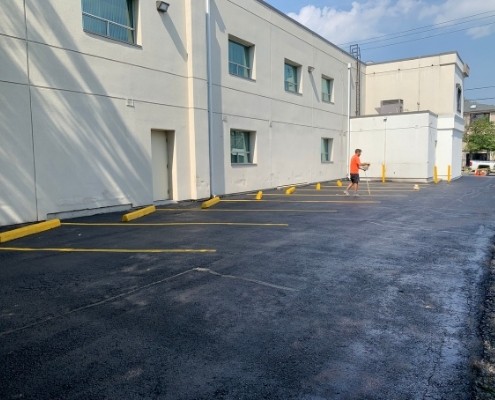 Parking Lot Sealing
Asphalt can begin to crack and break as time passes. Cracking asphalt can lead to moisture seeping under the asphalt and causing even more damage such as potholes which will end up costing you a lot of money.
That is why it is important to have asphalt damage taken care of as soon as possible. AHS offers professional asphalt repair and patching services that will stop any asphalt deterioration in its tracks.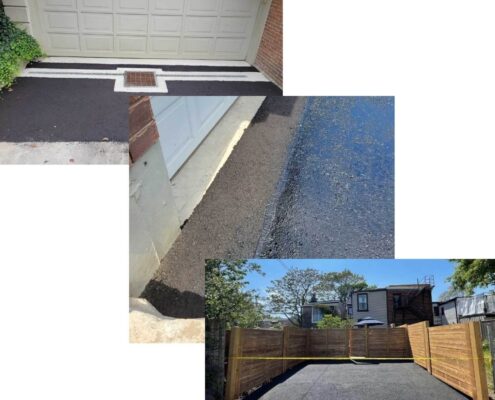 Professional Pavers
Here at AHS, we take pride in our work and it shows in the quality of our finished product. We only use the best materials and latest techniques to ensure that your asphalt repair will last.
Our team of experienced professionals are experts in asphalt repair and patching, and they will work quickly and efficiently to get the job done right. We understand that your time is valuable, so we will work diligently to minimize disruption to your schedule. So when you need asphalt repair or patching, you can trust us to get the job done right.
Our Residential Asphalt Repair Service Areas
---
AHA Residential Asphalt Repair