Georgetown Interlocking Services
With a highly experienced team, we strive to serve the residents of Georgetown with quality and consistent work. Collaborating with our clients to achieve their ideal exterior aesthetic, with fair and affordable prices, Action Home Services is your reliable source for interlocking services in Georgetown.
Driveway Interlocking in Georgetown
---
You can create a long-lasting and beautiful surface for your driveway with AHS. We will help you choose the best driveway interlocking ideas for your project and install them efficiently as well.
Interlocking pavers are extremely long-lasting and low-maintenance. The pavers are designed to withstand extreme weather conditions such as high temperatures, snow, and rain. They are a great choice for driveways and have an excellent drainage system that does wonders for snow and ice. We also seal the driveway for maximum protection against stains and moisture. We only use products from high-quality manufacturers to ensure that our services are reliable and consistent for all of our clients.
Why choose to interlock your driveway?
Highly Durable – Can last up to 30 years after installation.
Easy Maintenance – Interlocking pavers require very little effort to clean, needing only a sweeping and rinsing from time to time.
Customizable – Choose from an array of different stones or mix and match to create unique modular or linear patterns.
Enhances Curb Appeal – Design possibilities are endless! You can create unique designs that fit your home's aesthetic and makes it look well maintained.
Easy Repairs – Any cracks or damage can easily be repaired since each paver can be individually be replaced.
Free In-Home
Estimate
Please fill in below and one of our representatives will connect with you for your in-home quote.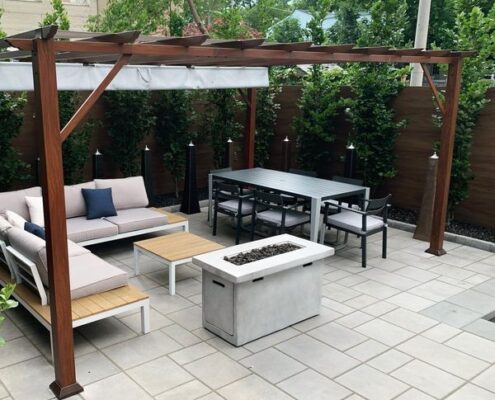 Backyard Interlocking in Georgetown
We at AHS provide all-inclusive interlocking and landscaping services for Georgetown backyards, including design, installation, and maintenance. In addition to creating beautiful and functional backyard spaces for homeowners, we want you to know we have been in the interlock business for years, so you're in good hands! We know our stuff- our team can help you design an interlocking backyard that meets your needs. 
Let your creativity run wild! Interlocking enables you to design a range of geometric shapes and patterns. Interlocking pavers can be cement, concrete or natural stones such as granite, cobblestone, limestone, flagstone sandstone, marble and slate. The modular and linear shapes come together to create unique cohesive designs that can transform your landscape!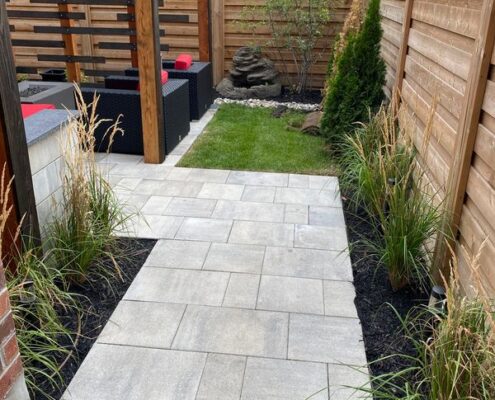 Interlocking for Patio, Porch, Walkway
There are many stonework possibilities available to homeowners through interlocking that can add style and sophistication to their homes. The versatility and durability of interlock make it an ideal choice for patios, porches and walkways. With the freedom to customize, we can mix and match shapes and colors to create the look you desire.
Our interlocking contractors can help with any stonework project. We use high-quality products that will improve the aesthetics of your home at an affordable price. Give us a call when you need a company that can provide interlocking for your patio, porch and walkways and more!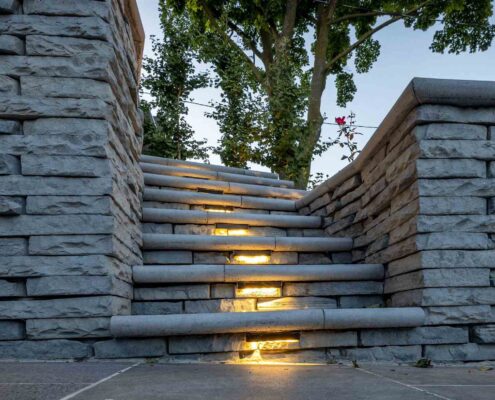 Interlocking Steps in Georgetown
Interlocking steps are a great way to improve the curb appeal of your home. Action Home Services has a wide variety of interlocking step options to choose from, and our experienced team can help you select the perfect style for your home.
We provide custom design solutions for those looking for interlocking steps in Toronto and the GTA. We know that every contract we take on is different and that each one needs special care to meet the vision of our clients. With professional designers and extensive knowledge in the field of interlocking, AHS can bring your dream home exterior to life with interlocking steps.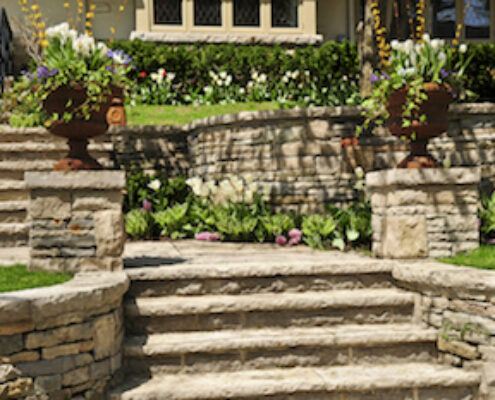 Flagstone Interlocking in Georgetown
Flagstone interlocking is another great option for adding curb appeal to your home. Flagstone is a natural stone that comes in a variety of colours and textures. It can be used to create a path, patio, or walkway.
Depending on the specific needs of the customer and other factors, Action Home Services will find the best method of installation of the flagstone. The flagstone or natural stone may be installed on top of the screening or concrete base. In both situations, the sub-base has to be prepared in a similar way as preparing the base for the interlocking pavers.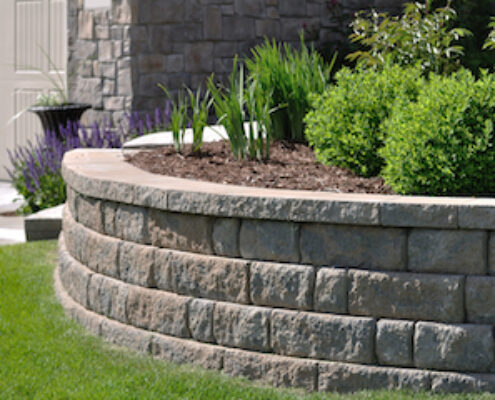 Retaining Walls in Georgetown
Retaining walls can be used to create dramatic visual interest, define garden spaces, and improve drainage. Not only do they look great, but they also require little maintenance. So if you're looking for a way to improve the curb appeal of your home, a retaining wall is a great place to start!
The retaining walls can be constructed in four different ways: gravity wall, piling wall, cantilever wall, and anchored wall. The most popular methods of building retaining walls in landscaping are gravity retaining walls and cantilever retaining walls.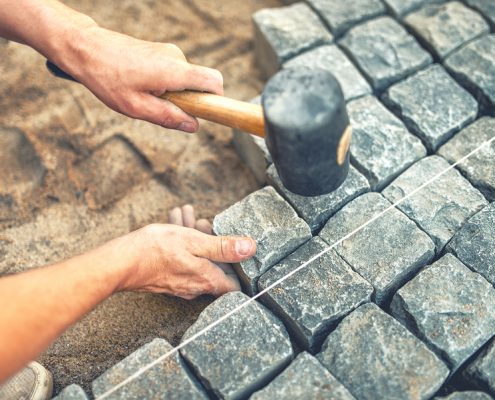 Interlock Repair in Georgetown
Interlock Repair can bring life back into your property. Interlocking stone is expensive, and replacing these stones can seriously break the bank. That's why the best option is to have these stones replaced. We can repair interlock on most major areas of your home such as the patio, steps, retaining walls, pathways, and more.
From natural stone to flagstone, we can repair all types of interlock and restore the beauty of your property once more. Contact Action Home Services to revitalize your interlock stone by repairing it today!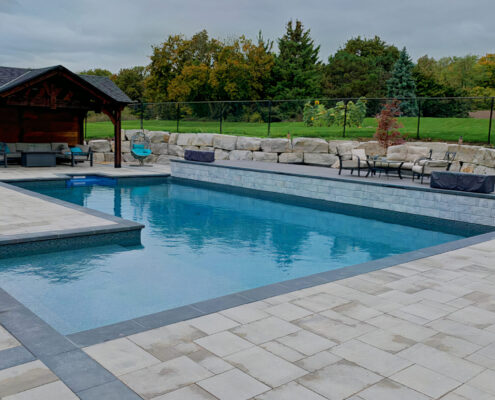 Pool Interlocking in Georgetown
Pool interlocking is a great way to add value to your home while also increasing its curb appeal. Action Home Services offers a wide range of pool interlocking services for residents in the GTA. We can help you choose the right materials and design for your space, and our experienced team will ensure that the job is done quickly and efficiently.
Take advantage of your pool area by surrounding it with a beautiful, smooth, interlock. At AHS we are experts in all types of interlocking and can design your pool area to be amazing. Pool interlocking is a great investment that will pay off for years to come. Contact us today to learn more about our services and get started on your project.
Clients' Testimonials from Georgetown
---
This is my 2nd time using Action Home Services. They landscaped our front yard last year and we got them back this year to do the backyard. I found their pricing to be fair and the quality and management of the work to be excellent. Would certainly use them again or recommend them to anyone looking for a good landscaper.
-Adam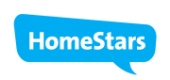 Hired Action Home Services to power wash, clean and seal our older interlock (driveway, walkways and back yard patios). Eugene was quick to respond, quote and resolve an issue we had afterwards. Quality was really good for an older interlock and they showed up when they said they would. Job was completed on time, Dmitry oversaw the work and he was very pleasant to deal with and communicated well with the workers to make sure everything was to our satisfaction. Wish we had the workers names (that were all hard working and amazing). Would highly recommend this company. Thanks again
-David Blades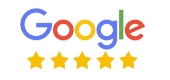 Great company! Took care of everything that was involved in to the project. Fast and clean. Constantine and his team were very nice to us and answered all questions that we had about the project. I recommend Action home services if you are looking for worry free project to be done at the highest possible quality.
-Ross K.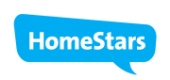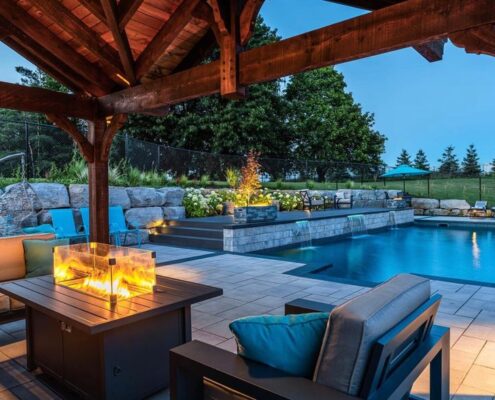 Trusted Interlocking Company in Georgetown
Action Home Services is a name you can trust for all your interlocking needs in Georgetown. We consider numerous factors while planning your project, including obtaining the proper permits, performing a site investigation, and following local municipality codes.
With a team consisting of knowledgeable and experienced contractors, achieving the landscape you desire is just a phone call away! We have established ourselves as interlocking experts through various successful backyard interlocking, driveway interlocking, patio interlocking, porch interlocking and walkway interlocking and landscaping projects across Georgetown and the GTA.
Call us today and let's discuss your vision. We offer free estimates and consultations for all your upcoming projects.