Asphalt Sealing: What Makes Our Asphalt Sealant the Best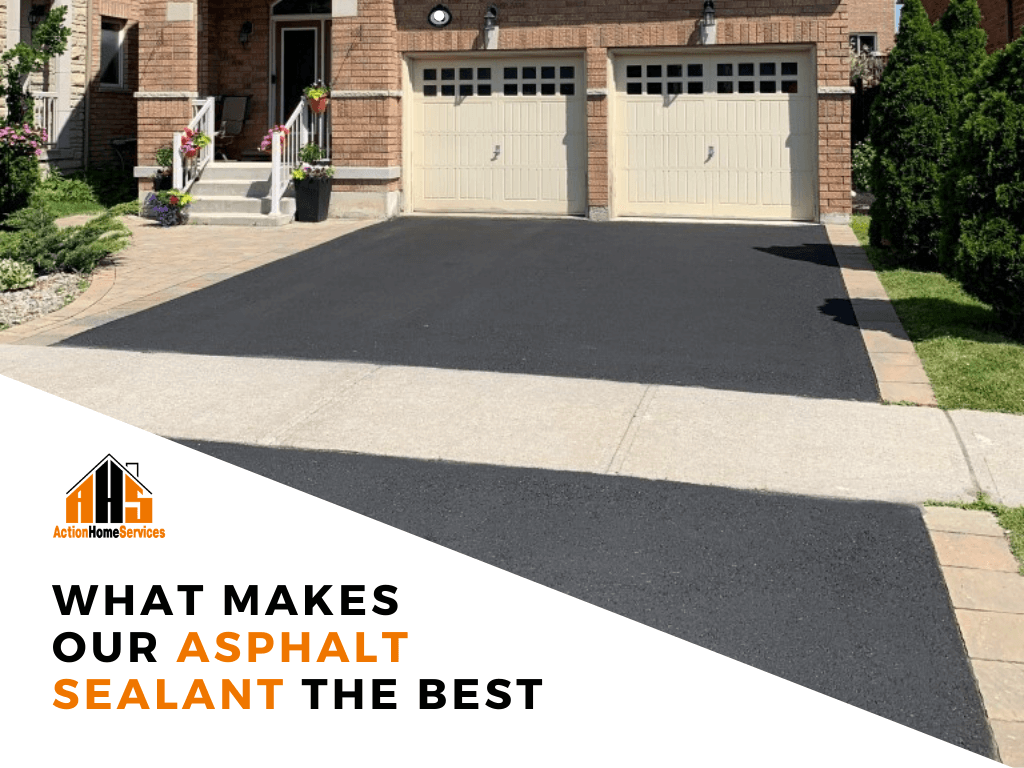 [embed]https://www.youtube.com/watch?v=001X89ZBcSQ[/embed]
If you own a property, whether it is your business or your home, you want it to be welcoming and attractive. However, as time passes, your asphalt driveway will begin to deteriorate due to wear to tear. Whether its cracks, potholes or any other damage that is caused by traffic or water, there is a way to fix your driveway and have it looking great. 
Asphalt sealing is a fantastic option for those who have a driveway that is beginning to look unsightly. Not only will asphalt sealing repair your driveway, but it will also improve the curb appeal of your home, which could contribute to your home's resale value increasing. A damaged driveway can also cause extra wear on your car so asphalt sealing's purpose surpasses just repairing your driveway. 
While many don't realize it, there are different types of asphalt sealants used, each with varying quality. At Action Home Services (AHS), we believe that our asphalt sealant is superior to the sealant used by our competitors. Here are some reasons that make our asphalt sealant the best.
Natural Asphalt
At AHS, we use an oil-based sealant that consists of both tar and oil. The reason this is important is due to the fact that the mixture of tar and asphalt is also what is found in natural asphalt. Because our sealant has a similar composition to natural asphalt, you can be sure that the sealant will last much longer than other sealants that use unnatural components in their sealant. 
Not Diluted
Something we think is very important is to not use gasoline or water in our sealant. Water and gasoline are sometimes added to asphalt sealant as a way to dilute the mixture and in the process save a few pennies. At AHS, we are sure never to add anything to our sealant, making it much more potent and natural. This will help increase the life of the sealant and will also reduce the chance of the sealant deteriorating quickly. 
A quality sealant is necessary if you do not want to have your driveway resealed in the near future. With the right sealant, your driveway can last up to 2 years. Many companies will use an inferior sealant which breaks down quickly as a way to cut corners and save money. In the end, a low-quality sealant will end up costing you even more because your driveway's seal will break faster and will begin to deteriorate, which means you'll have to reseal it again sooner than you originally anticipated.
At AHS, we are sure to use the best possible sealant on all of the asphalt sealing jobs we take on. We are always looking out for our customers and providing them with the best possible service so they come to trust us. Don't believe that we look out of our customers? Take a look at our great reviews and make up your own mind! 
When you work with AHS you're working with professionals who always take care of our customers. Give us a call at (647) 937-1023 to get a free estimate on our asphalt sealing services. We can provide residential and commercial asphalt sealing across Toronto and the GTA. You can learn about our asphalt sealing pricing here and visit our blog to learn about the things that factor into the price of driveway sealing.