Using The Best Material For Your Retaining Wall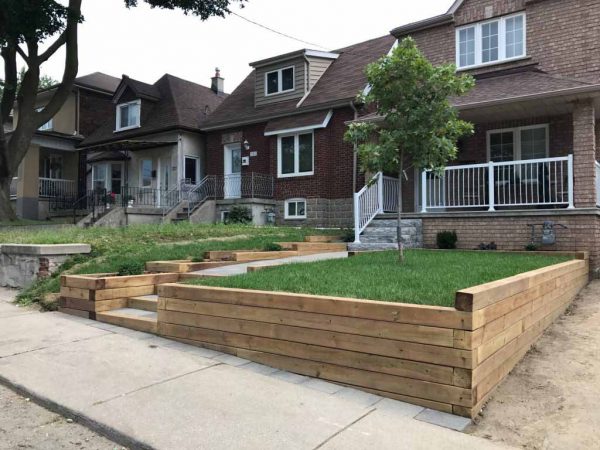 If you are looking for the most dramatic and effective ways to enhance the appearance of your home's landscape while increasing the space in your yard, building retaining walls is the way to go. Retaining walls are landscape additions to properties that are both functional and attractive. You can build retaining walls out of a variety of materials to meet both your purpose and design needs. To get the best results, hire a Toronto landscaping company to advise you on the best materials to use. This article will provide a guide to help you choose the best materials that you can use to build long-lasting retaining walls in your yard.
Brick
Bricks are the best materials to use when you are not going for a basic retaining wall. They are classic and relatively inexpensive compared to other materials. They are best used if your intention to build a retaining wall is to aid in slope control to guide the flow of water away from your home. Brick walls manage rock and soil distribution on a hilly property. Brick materials are reliable and they are easy to install. If you are looking to achieve beautiful, streamlined results, use rough-cut bricks in natural sand hues or red bricks for your retaining walls.
Rock
Boulders and natural rainbow river rocks make very good materials for retaining walls. They are easily available and very cost effective. They are best applied as decorative barriers around lines of trees or flower beds. Most homeowners prefer using naturally produced rocks because they provide a natural aesthetic appeal to a landscape. To get the best results when using rocks, pick rocks in different sizes so that you can arrange and stack them into a retaining wall of your choice. Different rock sizes bring out a natural appeal of your retaining wall making your yard look unique.
Cinder blocks
Cinder blocks are made from concrete blocks and they come in a variety of styles. They can easily be customized to fit different exterior designs depending on one's taste and preferences. Cinder blocks are mainly used to reinforce existing retaining walls for additional width and strength. You can also use cinder blocks to create smaller barriers around your home to give it a visual appeal and also break up the landscape. Before embarking on building a retaining wall using cinder blocks, first you may want to compare the load bearing abilities of blocks available. Different designs include:
Ribbed

Vertical score

Split-faced
Design a blueprint for your project to know how many blocks you need to buy before building your wall. Work with your landscaping company to get estimates of how much you need to spend in order to finish your project. It is wise to make bulk crate purchases in order to save on material costs than buying each piece independently.
Stone
If your main purpose for building a retaining wall is strictly for attraction, you need to use natural stone such as slate or granite. You have an option of building a retaining wall using brick or concrete materials and then use natural stones as finish to cover the front part of the retaining wall. Stones are available in different colors and sizes, and they are water or laser cut to fit a particular design.
Before building a retaining wall, you should create an outline of where the walls should be and how tall they should be. Check city ordinances in your area to ensure you build retaining walls that are within the set laws to avoid litigations. How much you are willing to spend on your project will determine the material you use for your retaining walls.