Wooden Railings
You can't go wrong with a classic wooden railing that continues the natural, outdoor theme throughout your yard. Perfect for traditional, earthy, and rustic homes, these railings are sure to give your home a warm and inviting feeling that you and your guests will be drawn to.
Wooden Railing Installation
---
Make your home's exterior warm and welcoming with wooden railings! With a lovely, natural aesthetic and countless customizable design options, the possibilities are endless. Wooden railings are also fantastic for tying in the look of other natural features in your landscape, such as patios, decks, and gazebos, and beautifully complement greenery from existing softscape.
Installing wooden railings has been our specialty for years! Our team is happy to assist you in making your own wooden railing installation a success.
To ensure a pleasant experience with us, here's what we can do for you when you're ready to get started:
A free in-home estimate

An in-house designer to help bring your ideas to life
Experienced railing professionals

Affordable rates for your project

Limited warranty on labor (5 years)
Free In-Home
Estimate
Please fill in below and one of our representatives will connect with you for your in-home quote.
Wooden Railings
---
The Railing That's Always in Style!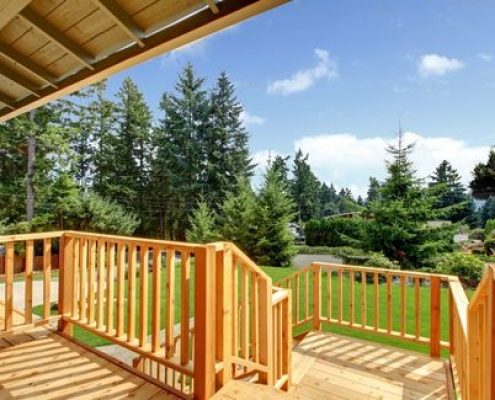 More About Wooden Railings
The classic wooden look will simply never go out of style. If your home already contains other wooden elements or a natural and earthy feel, wooden railings are a great option. Treated pine is most commonly used, however, cedar, redwood, and cypress are also great options.
Wooden railings are properly treated and coated to ensure they remain safe and sturdy over time. Unlike other materials, wood is very tactile, which means it is not hot or cold to the touch. This is a great property to have, especially for those who require a railing for support and mobility.
The lightweight material makes wooden railings a safe and cost-effective choice for homeowners.