Gorgeous Composite Privacy Screens in Toronto & GTA
Backyards are secluded havens, a haven from the craziness of daily life. Your beautiful outdoor space should be kept private if you want to enjoy it. Any home can benefit from a custom composite privacy screen that adds beauty and warmth. Action Home Services provides high-quality construction, woodworking, and landscaping services in Toronto and the GTA.
What Are Composite Privacy Screens?
---
Composite privacy screens are an ideal choice when you need to block out prying eyes while still having a modern, attractive look. Composite screens are made from long-lasting materials like composite wood and recycled plastic that can stand up to the elements without rotting or fading over time. They're also incredibly versatile, as they can be used for both outdoor and indoor applications. Composite privacy screens come in a variety of shapes, sizes, styles, and colors so there is sure to be one that fits your needs perfectly. Whether you're looking to maximize privacy around your home or simply add some visual interest to your outdoor living space, composite privacy screens can help give you the perfect solution. Plus, their low-maintenance design means that you won't have to spend time or money on upkeep. With composite privacy screens, you can enjoy all the benefits of a stylish and secure fence without any of the hassle.
Your dream home can become a reality with our help. Providing outdoor privacy screens to backyards has been one of our most impressive achievements. Whether you explore our projects or read our numerous positive reviews, you will find that we consistently deliver the best results for our clients. Our Custom Landscape Specialists are able to provide you with:
An In-House Consultation and Design Team to Help Bring Your Ideas to Life

Experienced & Certified Professionals

Competitive Rates for Your Project

Limited Industry Leading Warranty on Labor (5 Years)

Services for All Types Of Commercial and Residential Properties
Free In-Home
Estimate
Please fill in below and one of our representatives will connect with you for your in-home quote.
Your Beautiful Backyard Dreams, Brought To Life
---
Outdoor privacy screens come in a variety of styles and designs. All privacy screens are installed according to your specifications by Action Home Services. Our goal is to ensure that you are completely satisfied with your new privacy screen after installation. Our goal is to provide you with a seamless experience from beginning to end.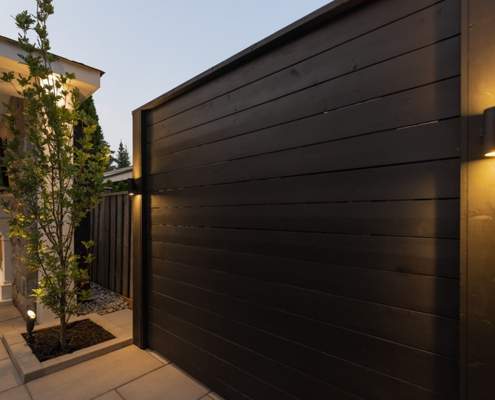 The Obvious Benefits of A Composite Privacy Screen
Composite privacy screens are a popular alternative to wooden screen structures like cedar or pressure treated wood. They offer several distinct advantages, including superior durability, long life and low maintenance needs, making them the ideal choice for any homeowner looking to add privacy to their outdoor space. 
Unlike traditional wooden materials, composite privacy screens can last up to 25 years without needing repairs or replacements. This is due largely in part to the fact that composite materials are engineered specifically not to rot, warp or become infested with insects. The material also has excellent water-resistance and will withstand extreme weather conditions like snow storms, hail, and blistering sunshine better than other options. Additionally, composite privacy screens never need staining or painting – just an occasional wash with a garden hose to keep them looking great.
Composite privacy screens also offer homeowners more design options than traditional wooden materials. As they are available in various colours, sizes, and shapes, composite privacy screens can be tailored to fit any budget and aesthetic preference. Homeowners can even choose from decorative accents like lattice trim or picket-style panels for added visual interest. Plus, unlike wood structures that must be built on site, prefabricated composite screens can usually be ready to install in just one day – making the installation process much easier and faster than other types of projects.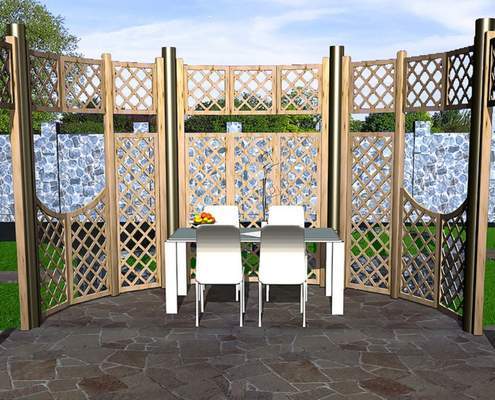 Why Go With Composite For My Privacy Screen?
Composite material is an ideal choice for a privacy screen as it provides superior durability and longevity compared to other materials such as wood or vinyl. Composite screens are also more resistant to fading, warping and cracking due to extreme weather changes, making them an excellent option for outdoor use. They are also low-maintenance and easy to clean with just soap and water. Finally, composite material comes in a variety of colours and textures that can be customized to match any home decor theme and provide the perfect level of privacy without sacrificing aesthetics. With its many benefits and customization options, composite makes the perfect choice for your privacy screening needs.
Another great benefit of using composite for your backyard privacy screen is that it provides exceptional soundproofing capabilities. This means that you will enjoy a peaceful atmosphere in your backyard that is free from noise pollution and other disturbances. Furthermore, composite privacy screens can be easily customized to fit your specific needs and preferences. You can choose from a variety of colours, textures, and finishes to create a unique look for your backyard space.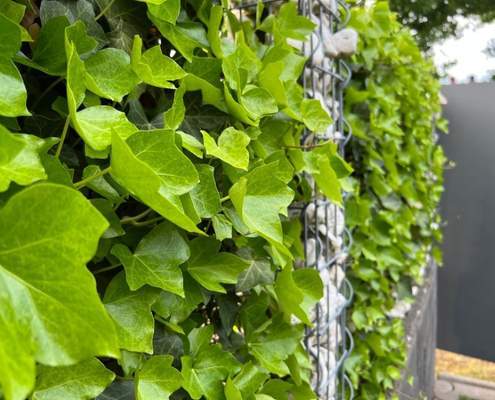 Is a Composite Privacy Screen Right for Me?
When it comes to choosing the right privacy screen for your backyard, there are a few important factors you should consider. Firstly, consider your budget. Privacy screens can cost anywhere from a few hundred dollars to thousands of dollars, depending on the size and materials used. Secondly, think about how much privacy you need—if you live in an area with frequent foot traffic or airborne noise, then you may want to invest in higher quality composite material that can block out sound and visuals. Thirdly, take measurements of the area where you plan to install the screen so that you know exactly what size to buy. Finally, decide between permanent and temporary options; if you're just looking for something short-term until landscaping is complete or other projects are finished, then a temporary option may be best. When you've considered all of these factors, you can begin to shop around for the perfect composite privacy screen to fit both your backyard and budget.
Providing Quality Services Throughout Toronto and the GTA
---
Located in Toronto and serving the GTA, Action Home Services specializes in custom design, construction, and general contracting. Adding custom composite privacy screens to your backyard is a great way to transform your space.
Professional Installation Process of Composite Privacy Screens
Action Home Services loves consistency across all of our projects. Our builders will typically follow a few steps to ensure the job is completed quickly and efficiently. 
First, they will survey the area where the screen will be installed and determine the most suitable location for it. This includes taking measurements of the space, noting any existing obstacles or potential hazards, as well as assessing sunlight exposure in order to maximize the aesthetic appeal and longevity of the product. 
Once a location has been identified, professionals will prepare the area for installation. This includes levelling out any uneven ground, digging foundations (if necessary), drilling pilot holes as well as removing any debris that might interfere with installation. 
After this initial preparation is complete, professionals can then begin assembling the composite privacy screen. Depending on the product and instructions, this could involve screwing together planks, panelling boards and/or mounting posts. 
Once the screen is assembled, our professional contractors will ensure it is firmly secured in place with nails or screws. In some cases, additional support may be required (e.g. extra lags or brackets) in order to guarantee the stability of the finished product. 
Finally, our professionals will typically finish up their work by cleaning up any debris and making sure that all exposed screws are tightened as necessary to further reinforce security of the composite privacy screen installation. This step is especially important if there are children or animals present who may run into or interact with the structure.