How To Maintain Your Paver Stone Patio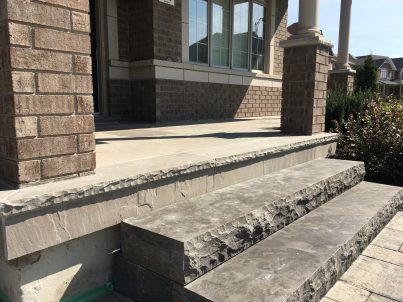 Many homeowners back out from the thought of installing paver stone patio in their homes because it can be time consuming. The truth is despite the amount of time spent on this project, the results are very much fulfilling knowing that it is classy, easy to maintain and is sure to serve its purpose for a long time. Just by choosing top quality materials, you will be able to enjoy the advantages that a paver stone patio can bring. Wonder how you can maintain the natural beauty of this choice? Here are tips to help you with.
You Must Have Extra Pavers In Stock
You can use these extra pavers to replace any chipped or cracked paver. Add to this, having a stock of pavers for replacement will mean you will be able to replace anything that needs replacement with one that looks like all the other pavers used over the surface.
Use Bumpers
Your paver stone patio installation must come with bumpers. Bumpers can make the surface look clean at all times. It can also give you an easier time using a weed trimmer over the patio anytime you want to trim grass or when you want to prevent grass encroachment. Add to this, when your paver stone patio comes with bumpers, it will be easier preventing cracks and shifts over the surface. You can benefit from bumpers by sealing grouts properly. This will keep the surface from discolouration and deterioration.
Apply Polymeric Sand On The Surface
It is also important to apply polymeric sand, a combination of sand and concrete with polymer materials in it, over the entire patio paver installation. This can be sprayed with water using a hose-end sprayer. Wetting will not just harden the material but will also prevent weeds from growing over the patio.
Clean The Tiles Every Now And Then
Acid washing is required in the removal of grout film over the surface tiles. This will help remove any discolouration that results from moisture hitting the stone surface. Fill-in any cracks during the process and make sure you use a grout sealer after washing. This will prevent mould and mildew from getting into the grout whilst also keeping it from crumbling.
It will also be good to sweep off dirt, yard waste, and leaves off your paver stone patio. Apart from keeping the surface clean at all times, sweeping can help prevent grass weeds from growing to any direction. Since grass will not get an opening for root expansion because of this, the cement will be intact and free from cracks.
You can also use a hose-end sprayer once weekly to clean your stone paver patio. You can scrub the stone by putting dishwashing detergent in a pail of hot water. You can also use an outdoor push broom when scrubbing off dirt over the stone patio. For stains, you can use soft wire brush to prevent scouring over the surface.
Tips When Pressure Washing
Pressure-washing can be used over a stone patio but you have to make sure that you are not spraying over the grout. Focus on spraying the stone surface instead. You will need to experiment regarding the amount of force you must use to clean the surface.
Reapply Stone Patio Sealant
You need to do this at least once every three years. Remember you used polymeric sand over the surface. You must seal the surface to prevent polymeric sand from degrading the surface and to make sure that the grout will look great all the time.
Remember that maintenance for a paver stone patio will be a whole lot easier if you allow experts to install them. Hire an interlocking contractor in Toronto and you can be sure that the project will be done in good time!