Landscaping Toronto: Winter Landscaping Ideas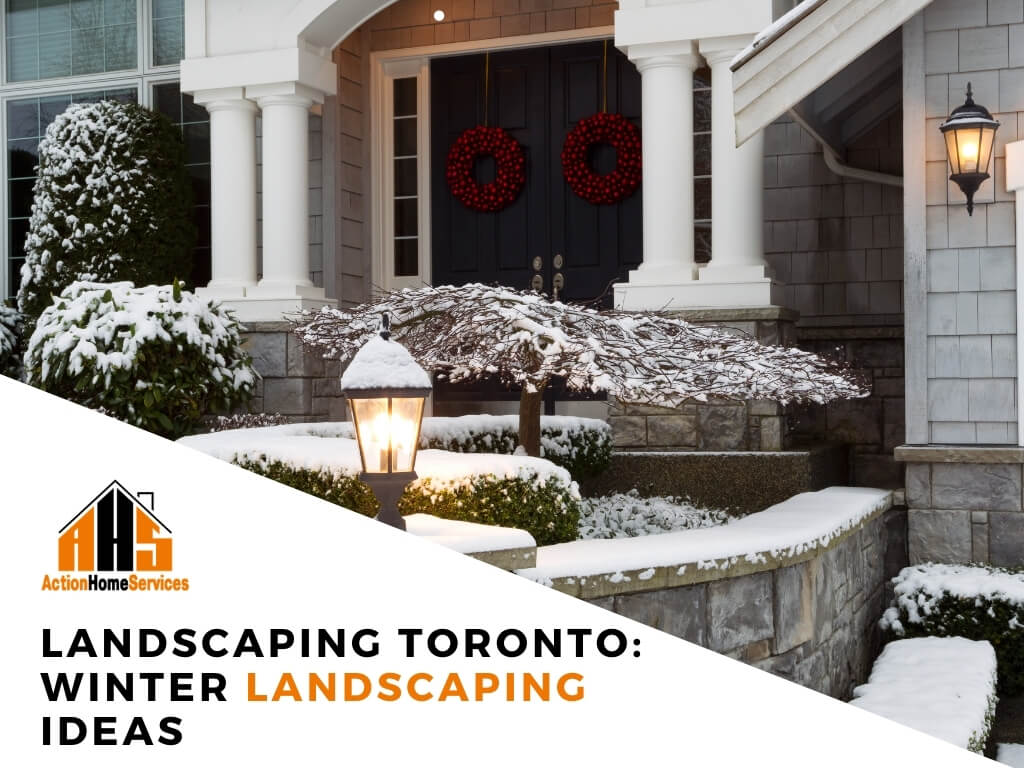 Just because the leaves have fallen and the ground is covered in frosty white snow that doesn't mean the space around your property should be disregarded until the next season.
Landscape upkeep may not be easy, or even practical, during the winter months. This does not mean you can't prepare to leave your yard alone. In fact, if you live in areas where snowfall is inevitable, it's recommended that your landscaping efforts are designed around it. This way you have a beautiful view year-round, even when grey clouds cover the sky.
Landscaping Toronto: Interlocking Pavers
Aesthetically speaking, interlocking pavers are better than asphalt or concrete slabs. They have a variety of styles and colours and shapes you can choose from to best fit your home's overall appearance. However, they have more to offer than just visual appeal. 
They are created to stand the test of time, and strong enough to withstand up to 8,000 PSI. This makes them the ideal option to install when you are landscaping around your property. The best part about interlocking pavers is that they can be added on the patio, around the pool area, on the walkway, and even on the driveway. The possibilities are endless!
Landscaping Toronto: Evergreens
If you live in a region where the harsh weather and snow is a seasonal occurrence, you're better off doing your research and planting accordingly. In Northern climates, elements like spruces and pines are ideal additions. They survive during tough conditions, and they add a little pop of colour. In fact, their needles are a subtle blue, green and sometimes yellow, which offers a nice contrast to the white snow. 
Landscaping Toronto: Architecture
Consider incorporating structures around your backyard, or anywhere else on your property. If statues aren't your cup of tea, then perhaps look into retaining walls. These structures are used to bound two elevation levels of soil or other landscape material. The purpose of these is to enhance your landscape design - whether you use concrete blocks or natural stone. 
The best part about this element is that it comes in a wide selection of textures, sizes, shapes as well as colours. You can use this for your plants, for your evergreens, around barks, pool areas - anywhere you want really. In fact, some people build waterfalls with retaining walls and it services as a beautiful centerpiece in their landscaping efforts. 
Landscaping Toronto: Lights
Outdoor lighting, especially during the winter time, can really transform the look of your space. By incorporating lighting elements within your landscaping design, you can easily add lights to illuminate your space or dimmer yellow lighting to emulate warmth and coziness. 
In fact, the advantage of adding lighting is that it comes in different tones and, in different forms (lanterns, pathlights, string lights, as well as many other ways).  Whether you want those lights around your patio, your walkway or even your driveway - the choice is yours to make.


Of course there are a plethora of winter landscaping ideas you can incorporate into your property. However, the ones mentioned above - while simple - are game-changers. They can easily enhance your property during the winter months, as well as save you money in the long-run because those elements won't be completely ruined by the cold season. 
If you want to beautify your property with one of these, or even other, winter landscaping ideas - connect with our team of experts at Action Home Services. We have the knowledge and expertise to create an excellent landscape design, so you're left with the best results. Whether you reside in Toronto or the GTA, simply give us a call at (647) 937-1023 for a free estimate and let's get started on the winter landscape design of your dreams.