What Factors Into Interlocking Price in Toronto?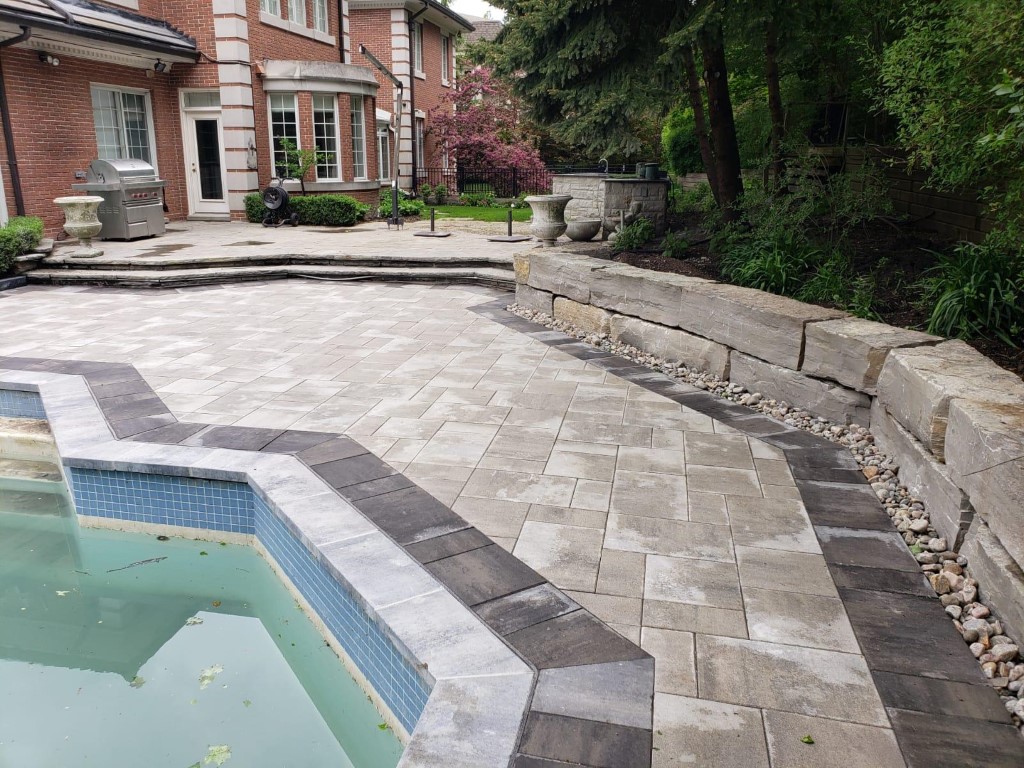 When it comes to your home, exterior design can go a long way towards improving the overall aesthetic and the curb appeal of your home. Beyond that, it can make you feel really good about your home, and that's because good exterior design can make your home look spectacular.
[embed]https://www.youtube.com/watch?v=7fuKlE8-3nQ[/embed]
Whether it is with plants, walkways, statues, patios, furniture, or gazebos, there are many ways that a homeowner can improve the exterior of their home. One of the most popular ways to add sophistication, elegance and beauty to a home is interlocking pavers. This is also one of the most tried and true ways to improve a home.
With interlocking pavers, you can use various stones to create unique and visually attractive designs for your driveway, walkway and patio. One of the most appealing aesthetic of interlocking is that it adds a luxurious and upscale feel to a home; and due to the fact that you can install interlocking anywhere around your home, you can drastically improve your front and backyard.
As a professional and reputable interlocking company, we get many requests for interlocking. One of the main questions that we are always asked is: what factors into the price of interlocking in Toronto and the GTA? The simple answer is a lot of things. For the longer answer, we put together this article detailing seven of the factors that influence interlocking price in Toronto.
1. Materials (stone type)
This is one of the obvious factors for the price of interlocking, but it is still worth mentioning. There are many stones available to homeowners who want interlocking, all of which vary in quality and type (including pavers and flagstone).
Naturally, the type of stone that you go with will alter the final price of your interlocking, and there is a range of prices available. This is something that a representative from Action Home Services can go over with a prospective client.
2. Machine Accessibility
It is important for the company installing the interlocking to have easy access to the job site. If it is difficult for the company to get its machine (or machines) to the job site, that can influence the interlocking price. If access is difficult, then the overall price can be raised.
3. Size of Area
The size of the job size plays a major role in determining the price of an interlocking job. If we are working with a large job site, then the price will be higher than a project where we are working with a smaller job site. This is something that can be determined early on in the process during a free estimate.
4. Excavation and Demolition
The existing conditions of the job area will also factor into the interlocking price. With each and every interlocking job, there will be a certain level of excavation and demolition required. Depending on how much excavation and demolition that an interlocking company needs to complete, the overall price of the project will vary.
5. Existing Grade
Upon completing excavation and demolition, it may be necessary to make adjustments to the site in order to complete the interlocking. For example, it may be necessary to install retaining walls, which is something that will impact the interlocking price.
6. Driveway vs. Patio vs. Walkway
The area where you plan to install interlocking will have an impact on the final price. Depending on whether you choose to install driveway, patio, or walkway interlocking, the price will vary.
7. Shape of Interlocking
One of the great things about interlocking is that it allows for some unique designs, but this also means that the price can be impacted by the final design you go with. You can ask a company to design the interlocking in just about any shape, like a square, circle or triangle for example.
8. Time of Year
More often than not, companies will install interlocking between March and December. During this time, prices are fixed for the most part. Here at AHS, we offer discounts on our interlocking prices in Toronto during the month of December.
These are the primary factors that will impact the final price of an interlocking project in Toronto and the GTA. If you are planning on installing an interlocking driveway, walkway or patio, then you should get in touch with the interlocking professionals at AHS. We would also encourage you to contact us about any other landscaping questions you may have. You can give us a call at (647) 937-1023 in order to inquire about a free estimate for our interlocking services.