Composite Decks
We are proud to offer our clients Composite Deck options. Our construction professionals have years of experience working with all kinds of decking. Our experts know everything about composite decks and can answer any of your questions and install your new deck quickly and efficiently.
Composite Decks | Design And Installation
---
Composite decking is a great choice for outdoor decks because it offers many advantages over traditional wood decking. Composite decks are more durable and require less maintenance than wood, making them ideal for homeowners who want a low-maintenance solution that will still look good in their outdoor space. Composite decking is also resistant to rot, fading, and other types of damage caused by weather conditions, ensuring it will maintain its aesthetic appeal no matter where you live. Additionally, composite decks come in an array of colours and patterns that can be customized to fit any home's style. Finally, composite material comes with an added bonus: eco-friendliness! As they are made from recycled materials, these decks help reduce your environmental footprint while still allowing you to enjoy the beauty of a wooden deck. There's no doubt about it – composite is the ideal choice for an outdoor deck.
Our professional teams install your composite decks, but they also custom-design them to meet your specific needs. With the help of our in-house designer, we can come up with a design you'll love and then our installation team will bring it to life. We have been trusted with decking by many homeowners for these reasons:
A Free In-Home Estimate

An In-House Designer to Help Bring Your Ideas to Life
Experienced Deck Installation professionals

Affordable Rates for Your Project

Limited Warranty on Labor (5 Years)
Free In-Home
Estimate
Please fill in below and one of our representatives will connect with you for your in-home quote.
Composite Decks - Plan, Design, Build
---
Composite decks are the amongst strongest and most durable choices for decks. With a modern look and feel and the ability for vast customization options, Composite is a great material for all sorts of outdoor decks. PVC decks are low maintenance and long-lasting. We offer a variety of composite decking options, which is why AHS is the best company to go with if you want to install a custom deck. Action Home Services will create the deck of your dreams.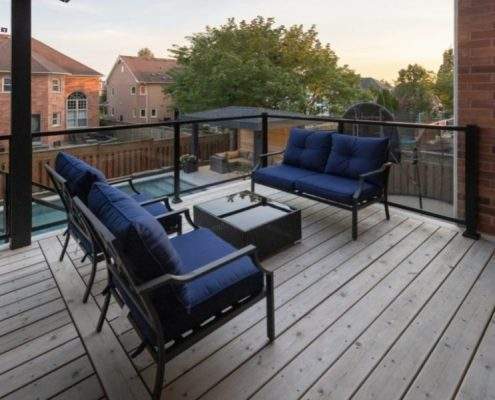 Benefits of Composite Decks
Composite decking is a great choice for your home. It's versatile, low-maintenance and comes in a variety of colours and textures. It also offers long-term savings over traditional wood decking materials, as it requires much less maintenance and upkeep throughout its lifespan.
Due to its synthetic construction, composite decking is resistant to rot or insect damage that can occur with natural wood decking materials. This means fewer repairs will be needed over time.
In addition to being weatherproof and low maintenance, composite decking is also an environmentally friendly choice. Unlike traditional wood decks that require significant resources to produce and maintain, composite deck boards are made with recycled materials and some manufacturers offer recyclable or repurposed options.
From its attractive appearance to its durability and sustainability, there are countless reasons why composite decking may be the perfect solution for your home.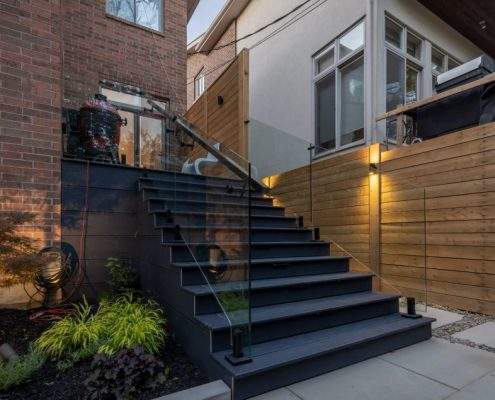 Maintaining Your Composite Decks
Composite decking is a great alternative to traditional wood decking as it requires less maintenance and lasts longer. However, composite decking still requires some upkeep to ensure that it looks its best and remains functional.
Clean Regularly – Keeping your composite deck clean helps prevent the buildup of dirt and debris which can cause discoloration or damage to the surface of the material. Use mild soap and warm water with a soft bristle brush or power washer to remove dirt and debris. Make sure not to use abrasive cleaners as this may cause damage.
Repair Damaged Areas Promptly – Composite decks are designed to withstand wear and tear but they can still break down over time due to extreme temperatures or high foot traffic.
Check Fasteners – If you have composite decking that is nailed or screwed into place, it's a good idea to check the fasteners periodically. Make sure they are tightened securely and replace any damaged fasteners as needed.
Following these simple tips will help ensure your composite deck stays looking its best and remains a safe, inviting space for years to come.
The Highest Quality Design, Service & Deck Installation in Toronto and the GTA
---
We proudly provide construction and general contracting services to all types of estates, homes and properties in Toronto and the Greater Toronto Area at Action Home Services. Your outdoor space can be transformed into a comfortable and functional entertaining area with AHS.
Composite vs Pressure Treated Decks
The main difference between composite and pressure treated decks is that a composite deck is comprised of recycled materials like sawdust or plastic, while pressure treated decks are made from natural, untreated wood. Composite decks offer more durability and resistance to weathering than pressure treated decks, so they require less maintenance over time. Pressure treated decks can rot or warp if not properly maintained, while composite decks are more resistant to such damage. Additionally, composite decks tend to be more expensive upfront but may end up being the better choice in terms of costs in the long run due to their better longevity.
Ultimately, it will depend on your budget, preferences and needs when deciding which type of deck material is right for you. Both types have advantages and disadvantages; however, for many homeowners, the extra upfront costs of a composite deck may be worth it to have a high-quality, durable deck over time. For others, the simplicity and affordability of pressure-treated wood may be more appealing.
No matter what type you choose, make sure to properly maintain it so that you can enjoy your outdoor space for years to come! Furthermore, regardless of material choice, it is important to consult with an experienced contractor at AHS who can ensure that your deck is built correctly and safely.
Composite vs Cedar Decks
When it comes to durability, a cedar deck is one of the best choices for outdoor decks. Cedar has natural oils that resist rot and decay, making it an ideal choice when building a long-lasting structure outdoors. In comparison, composite decks can be made from recycled materials like wood and plastic and are almost entirely maintenance-free. They are more resistant to weathering, discoloration and staining than other types of decking material.
However, one thing to keep in mind when comparing cedar vs composite decks is the cost factor. Cedar is generally more expensive than composite due to its natural beauty and ability to withstand wear better over time. Composite decks may require occasional cleaning but they are ultimately more affordable with their low-maintenance needs.
If you want a beautiful, long-lasting deck with minimal maintenance, cedar may be the best choice for you. On the other hand, if affordability is more important and you don't mind occasional cleaning, composite decks could be the way to go. Whichever option you decide on, make sure to contact Action Home Services for all of your custom design and landscape contracting needs.
Custom Decks Designed For You
Action Home Services provides high-quality Decks throughout Toronto and its surrounding areas. Our company offers a wide range of backyard design services, such as custom decks, gazebos, and pergolas. Because we strive to amaze and satisfy our clients, almost all of our construction projects come with a five-year limited warranty.
Do you need a makeover for your backyard? Please do not hesitate to contact Action Home Services if you need assistance with your home. Count on our deck contractors to build your dream deck. We are local deck builders with years of experience in the GTA and Toronto area. Get a free quote from AHS today.