Fiberglass Pool Showdown: Assessing the Best Pool Options for Your Home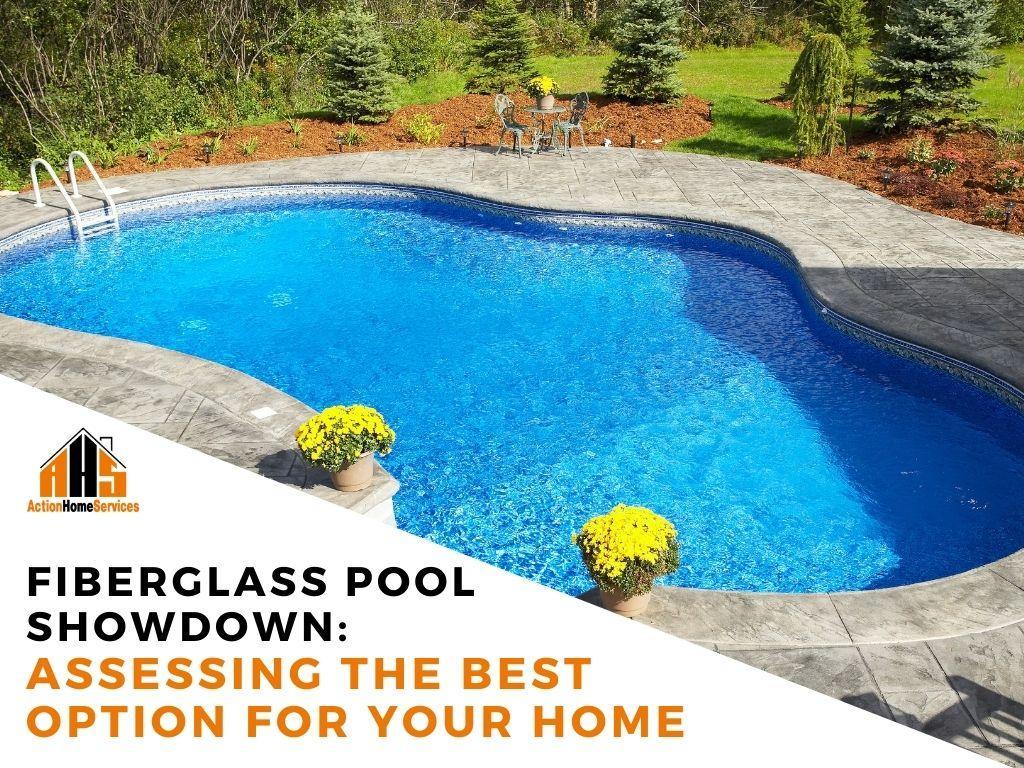 Understanding Fiberglass Pools
Dipping into the realm of home improvements and renovations, adding a swimming pool to your home is a significant decision. If you're considering this addition, fiberglass pools might be on your radar. These pre-made shells are delivered in one piece and installed into your yard—a pretty straightforward process. However, the simplicity of installation is just the surface of the benefits these pools can offer. In this article, we will be exploring fiberglass pools, comparing three popular models, and reviewing the pros and cons of each.
Benefits of Fiberglass Pools
Fiberglass pools are loved by many homeowners for their numerous benefits. To start with, their smooth surfaces are gentle on the feet, and you won't have to worry about rough textures scraping against your skin during a swim. This smoothness also means that debris and dirt don't have many places to hide, making these pools easier to clean than their concrete or vinyl counterparts.
Maintenance and Longevity
The perks of fiberglass pools extend beyond their comfortable feel and aesthetic appeal. When it comes to maintenance and longevity, these pools genuinely shine. They offer a highly resistant surface that deters algae growth, which means they require fewer chemicals than traditional pools. This reduced chemical need translates into savings and is a more environmentally friendly choice, making fiberglass pools a favourite for the eco-conscious homeowner.
Durability is another factor in favor of fiberglass. With proper care and maintenance, these pools can last for 25 years or more, offering a great return on investment.
The Contenders
Having established a foundational understanding of the general advantages of fiberglass pools, it's time to dive into our three contenders. These three are just a few of the popular models we see installed in backyards today, but there are dozens or even hundreds of options available for homeowners across the GTA. We'll be looking at three different models - Amaralina, Cancún, and Costa Esmeralda, each with its unique features and benefits.
AMARALINA – 23′ X 11′ 6″ X 4′ 7″
Amaralina is a mid-sized, Roman-style fiberglass pool that can fit in most backyards. Its dimensions are 23 feet by 11 feet 6 inches, and it's 4 feet 7 inches deep.
Design and Features
The Amaralina showcases a unique design with a bench and ladder situated on opposite sides of the pool. This design adds versatility to your swimming experience. The Roman style of the Amaralina lends an air of elegance and sophistication, setting it apart from standard rectangular or kidney-shaped pools.
How it Enhances Your Property
The Amaralina does more than provide a space for swimming—it acts as a centrepiece that enhances the look and feel of your entire property. It's an outdoor feature that creates a visually appealing scene for your backyard, making it the perfect spot for social gatherings or quiet family times. Plus, its stylish design can significantly increase the value of your home.
CANCÚN – 19′ 8″ X 9′ 10″ X 4′ 7″
Cancún is a classic rectangular fiberglass pool. Its dimensions are 19 feet 8 inches by 9 feet 10 inches, with a depth of 4 feet 7 inches, making it an excellent choice for those with limited space.
Design and Features
Cancún's design embodies practicality and elegance. Its classic rectangular shape allows for efficient use of space and can fit in various locations. Whether you want it in your backyard, inside your house, or even on a rooftop, Cancún fits the bill.
How it Enhances Your Property
Cancún does more than provide a place for you to cool off during hot summer days—it enhances your home's aesthetic appeal. Its simple yet elegant design can seamlessly blend into your property's decoration, improving the overall aesthetic and adding value to your home.
COSTA ESMERALDA – 32′ 10″ X 14′ 1″ X 4′ 7″
Costa Esmeralda is the largest among the three, ideal for those with larger properties. This pool measures 32 feet 10 inches by 14 feet 1 inch, with a depth of 4 feet 7 inches.
Design and Features
The Costa Esmeralda is not just a pool—it's a luxurious experience. This model features a tanning ledge and is lined with porcelain waterline tiles, giving it a beach-like ambiance. The design perfectly represents the beach and vacation vibes, providing an excellent relaxation spot for hot summer days.
How it Enhances Your Property
Costa Esmeralda is more than a pool—it's an upgrade to your lifestyle. It transforms your backyard into a leisure area that resonates with luxury and relaxation. It's an excellent addition for homeowners who frequently entertain or those who simply want a private oasis.
Comparing the Three Options
With the overview of each pool model covered, it's time to compare them head-to-head.
Pool Size and Space Requirements
When considering which fiberglass pool is right for you, it's essential to consider the space you have available. Both the Amaralina and Cancún are medium-sized pools, making them suitable for most properties. On the other hand, Costa Esmeralda requires a larger area due to its size, making it an ideal choice for properties with larger backyards.
Style and Aesthetics
Style and aesthetics are subjective and dependent on personal preference. Amaralina's Roman style offers a classic look, Cancún's rectangular form provides simplicity and modern appeal, and Costa Esmeralda brings a touch of luxury with its resort-like design.
Additional Features and Amenities
When it comes to features, each pool model presents unique offerings. Amaralina's bench and ladder design adds versatility to your swimming experience. Cancún's space-efficient design is ideal for those with limited space. Costa Esmeralda takes it a notch higher with its tanning ledge and waterline tiles, offering a luxurious experience.
Final Verdict
Deciding on the best fiberglass pool for you boils down to your individual needs, preferences, and available space. While all three models offer fantastic features and benefits, your choice will depend on what you value most in a pool. Whether it's Amaralina's versatile design, Cancún's space-efficient model, or Costa Esmeralda's luxury feel, the best pool is the one that meets your requirements and brings you joy.
As we've journeyed through this fiberglass pool showdown, we hope it has brought you clarity on the best option for your home installation. We definitely encourage you to talk to one of our specialists to make sure whichever fiberglass pool you choose is right for your property. Again, there are lots of options when it comes to premade fiberglass pools, and with AHS' industry connections, we can get you any of them! Whether you're drawn to the elegance of Amaralina, the practicality of Cancún, or the luxury of Costa Esmeralda, remember that your dream pool is just one decision away.
Here at AHS, we are more than ready to help make that dream a reality. As professional pool installers, we work hand-in-hand with you to ensure that your fiberglass pool is installed flawlessly, enhancing your home and lifestyle. Our expertise and dedication to service quality make us the perfect partner for this exciting home improvement journey. Contact us today or call us at (647) 937-1023 for more information.