Applicator Types for Interlock Sealing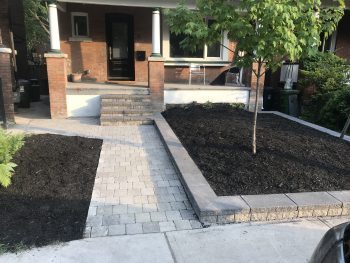 There are many ways to build a driveway or a pavement, and one of the most popular of these is by using interlocking blocks. Not only is the process quick and convenient, but the results are also long-lasting when taken care of. The fact that there are so many materials to choose from also means that using interlocking blocks can be a strategy to design an aesthetically pleasing driveway or pavement. After construction, sealing is a process that is optional.
However, due to the many benefits it confers to the driveway or pavement, it is advisable to ensure that it's done. Sealing interlocking blocks results in longer life, need for less maintenance, a lower risk of weed growth and maintenance of the original color for a longer time. Placing sealant on interlocking blocks is usually done using an applicator. Some of the most popular types include:
Low Pressure, High-volume (Lphv) Sprayers
Also known as airless sprayers, these sealant applicator types are considered to be the best for application of any type of interlocking block sealant. When sprayers of this type are used, they permit finely controlled rates of application. This means that the sealing process can be more accurate, and it also makes it possible to seal large areas in shorter times.
The majority of these sprayers can be used with solvent-based or water-based sealers, any type of resin and low or high solid content. The contractor basically has few restrictions regarding the type of sealant they can use when using LPHV applicators. The spray equipment is usually rented (if you decide to do the sealing on your own). However, you can ask your paving contractor to do interlock sealing as part of the project. You then don't have to worry about the technicalities of doing it, and will be assured of a professionally done sealing job.
Roller Sealants 
A roller sealant applicator makes use of a roller similar to the one used for painting. The roller typically has a quarter to three-eighths inch naps. Though they can be used to apply sealants that are solvent or water-based, they are not ideal for application of sealants whose solid content is above 35%. Additionally, if it turns out that the surface to be sealed is rough or ambient temperatures are high, rollers are not ideal for applying solvent-based sealants since they will lead to problems including puddling and bubbling. In essence, this means that before using roller sealants, one has to make sure that all the variables allow for its use.
Pump-up Sprayers
These sealant applicators are also known as low-pressure sprayers. Some are not ideal for using solvent-based sealants, since they can get clogged. However, pump-up sprayers that are designed for solvent-based sealant use are ideal for application of one-part solvent-based sealants which have a solids content less than 35%.
T-Bars
A T-bar applicator is a piece of metal with a straight edge, designed specifically for sealant application. They are most ideal for applying sealants that have very high solid content (more than 35%). These are usually epoxy and polyurethane sealers. T-bars can only be used for application over smooth surfaces.
Lamb's Wool Applicator 
This sealant applicator is essentially a woolen rag which is wrapped on a block. This type of applicator is excellent when applying high-solid sealant, particularly if they are solvent-based. These typically include epoxy and polyurethane sealants. These applicators can only be used on smooth surfaces.
Micro-fiber Applicators 
Synthetic micro-fiber applicators are the best choice for application of water-based sealants with low solid content on smooth surfaces. One of the major benefits of micro-fiber applicators is that they achieve very thin coverage, which is necessary to achieve a quality finish.